This was one of my favourite project with @qualitypixels photographers (Sylwia & Marcin Ciesielski) called What The Hell.
Paul Walker was an absolutely phenomenal model, patiently sitting through the life casting and enduring hours of body painting on the day of the shoot. It was the best experience working with Dan Frye to create these special prosthetics pieces together.
Angel with broken wings is @melissabastiani
Props were by @shortieprops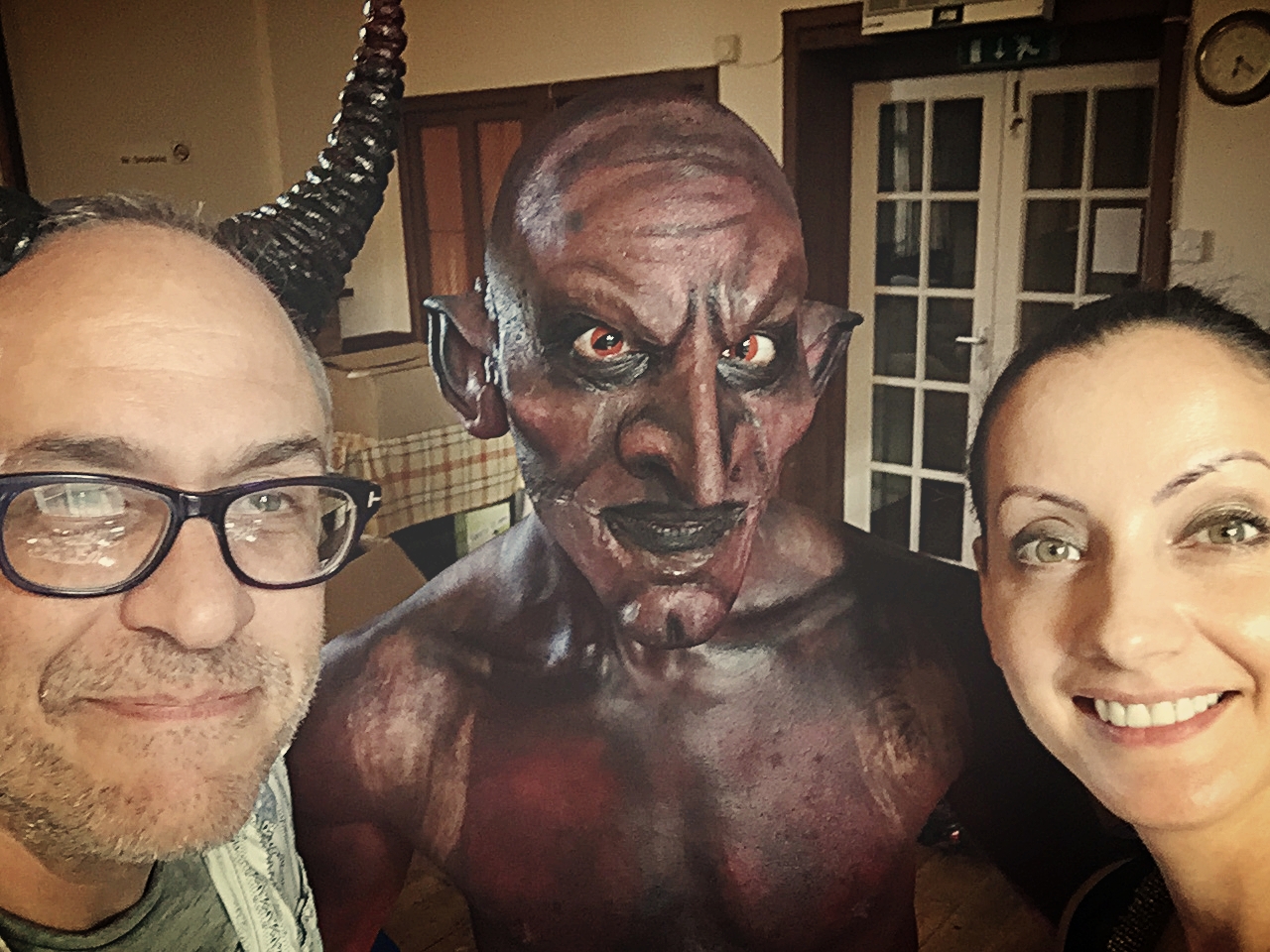 For the past few years I have been regularly shooting with Quality Pixels photography. I find them extremely inspirational and they always take my ideas on board. We have been planning for some time to do something very brave involving special effects and body painting, and after several great ideas the devil idea was born. Paul Walker is an excellent model. We were very lucky to have him on board.
He travelled down from Bristol to get his life cast done. I also paired up with Dan Frye, special effects artist as he is one of the best in the industry. He teaches all around the world and works on blockbuster movies worldwide. We used the mini studio within my flat to experiment, and after crating the life cast of Paul we had to wait 12hrs before were able to remove the cast from his face so I could then sculpt the devil head mask for Paul.
It took a few days to sculpt the face as I was very busy with another job, but I got there in the end and I was very happy with the finished result. All the products for the life casting were from PS Composites (http://www.ps-composites.com) I am extremely grateful for David Power the owner who provided an extra speedy delivery to ensure all products available for the workshop day.
My inspirations for this piece came mostly from watching a huge amount of horror movies including Horns (2013), Legend (1985), and reading history books on devils. I always new I would not want to make him too scary but more so powerful looking with extremely strong features. The aim was to show the variation in the devils muscle strength.
We are also in discussions with Shortie, who runs Shortie props. he is extremely talented prop maker. Sylvia and Marcin has designed along with him the huge wings and horns for the devil character. Allow him to walk and to do all the movement. The props were meant to be huge and they turned out very heavy at the end, however the model managed it so well.
For the broken angel wings I have done my research on historical stories and in movies X-Man The Last Stand, Lucifer - They Stole my Wings. I wanted to create something very realistic for Melissa. Dan Frye had a great idea to put dried chicken wings to replace the broken bones.
I have done the sculpting for the 2 molds on Mel's back. Dan and I have casted the 2 molds and made silicon pieces out of it. Sylwia brought the feathers to place around the broken bones, imitating the wings were broken off.
After packing all the makeup me and Dan have travelled up to Southampton to join Melissa and Paul models and Sylwia and Marcin photographers. As Quality Pixels Photography are an amazing photographer couple they are super organised and work so hard on their shots, hence all set up was ready by the time we arrived to the studio.
Shortie props brought the wings and the horns.
It is excellent working with such a dedicated, patient and professional team. Dan Frye is so professional and really fast at work. Whilst I have started to full body painting with the devils unique colours red and black, mixing it with charcoal and a little bit of dark purple for shading. (Make Up For Ever body paint & Ben Nye Charcoal Powder)
To apply the silicone pieces we have used Telesis 8 glue on the nose, chin, forehead and ears.
For the teeth we have used teeth bough online from a Halloween shop, unfortunately Paul did not have enough time to have his teeth moulded for fitted teeth. However the result was still great as we have painted the teeth with Ben Nye Teeth Fx Pallette and fitted it with putty.
Overall Paul's body painting, silicone piece application and fitting him on with the props took few hours. The process could have been shorter but I also had to put hair and makeup on Melissa and also add her broken wings prosthetics application at the same time. It was very busy for me and Dan, but luckily we had a great team moral and he is so inspirational to work with.
We had Anna Jadwiga Chichon making the devil silicone ears what I brought with me. Later on we have applied and painted on with skin illustrators.
Quality Pixels has provided with the best setup and they even brought in Paul's motorbike to use as props, so he was flying it instead of driving it. The images are all bespoken. Sylvia and Marcin worked so hard to make sure the digital effects are matching their imagination.
Big thanks to the great team to have made this dream project come true.
The day was fantastic and as always I loved working the best team. Hope you like the pictures too!
This is why I love makeup. I can be creative and I love to see the end result after all the hard work. I just hope everyone else likes it too.